The Jacksons say goodbye in Versace

InStyle magazine reported yesterday that Versace was the designer of choice for the entire Jackson clan for the funeral of Michael Jackson. Janet Jackson contacted Donatella Versace personally and asked her to design the suits for the Jackson men and dresses, suits and accessories for the ladies. Donatella was very happy to oblige since it was her brother Gianni who outfitted Micheal during his concerts and throughout his life. The elaborate military jackets Michael wore during his History tour was designed by Gianni Versace himself.
It seems befitting that Versace was the designer of choice to say goodbye to the King of Pop, who outfitted most of his ladies in the label. Lisa Marie Presley wore Versus while married to Michael and Janet also wore it during performances with her brother. From the wide brimmed hat Latoya wore to the white gloves that covered the hands of those who carried Michael's golden casket to Janet's conservative yet sexy sheath, the entire family looked absolutely perfect.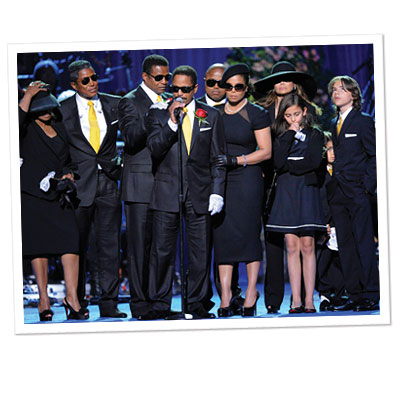 PC: Getty Images